CANFOUR
Proof of concept
Open phase I/IIa study to assess safety and signs of efficay during treatment with CAN04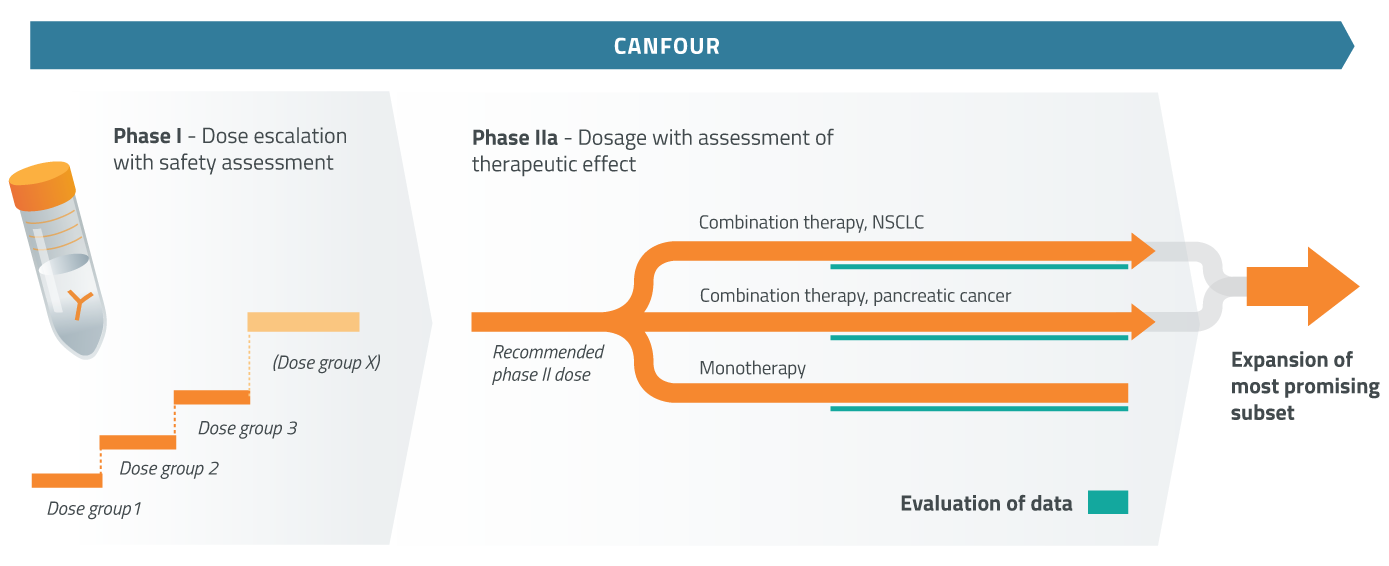 Phase I – dose escalation and safety evaluation
Was initiated after summer 2017 and was concluded in 2018.
Included 22 patients with non-small cell lung cancer (NSCLC), pancreatic cancer and colorectal cancer.
Was conducted at 5 clinical centers in 4 European countries.
The results showed that CAN04 has a very high level of safety and positive effects on biomarkers that can be linked to cancer was observed.

Good safety profile up to 10 mg/kg.
A decrease in the biomarkers IL-6 and CRP.
Stable disease in 43 per cent of patients.

The decrease in biomarkers is very important for two reasons. There is a relationship between these biomarkers and rapid disease progression. In addition, these are classical markers of inflammation, and the reduction is an indication that CAN04 functions as intended.
Phase IIa – Dosage with evaluation of therapeutic effects
Was initiated in the beginning of 2019.
Expected to include approximately 90 patients with NSCLC and pancreatic cancer.
Conducted at around 20 clinical centers in about ten countries in Europe.
Assessment of CAN04 as combination therapy with chemotherapy in patients with NSCLC or pancreatic cancer who have not previously received chemotherapy.
In combination therapy, CAN04 is combined with cisplatin and gemcitabine in NSCLC and with gemcitabine and nab-paclitaxel in pancreatic cancer.
Positive interim data were presented in December 2019.

The results show that adding CAN04, the response rate was at a higher level than would be expected based on historical data for both pancreatic cancer and NSCLC using these standard chemotherapies, in line with the hypothesis that CAN04 can be synergistic with chemotherapy and reduce chemotherapy resistance.
No major side effects were observed apart from those expected from chemotherapy or CAN04.

In addition to combination therapy, monotherapy is also being studied in patients in late stage of the diseases in order to obtain more information on effects on biomakers and safety.
Enrollment expected to be completed Q3 2020 for pancreatic cancer and Q4 2020 for NSCLC.
Read more on ClinicalTrials.gov (NCT03267316)