About Cantargia
Therapy with a great potential to treat serious diseases
Cantargia specialises in antibody-based cancer treatment. CAN04, the company's patented antibody treatment, has a dual mechanism of action. CAN04 fights cancer by activating the immune system and blocking signals that lead to tumour growth. Treatment with CAN04 has the potential to become an important part of modern immuno-oncology.
Potential for several cancer diseases
Cantargia is developing antibody-based treatments specifically targeting the molecule IL1RAP with a potential to treat a number of different cancers. The lead candidate, CAN04, is initially focused on non-small cell lung cancer (NSCLC) and pancreatic cancer and clinical trials started in 2017. The aim is to develop a new drug with the potential to become an important part of future cancer treatment.
Our product candidate CAN04
CAN04 is designed to block the cancer cell's signalling via the interleukin-1 system. Thereby counteracting the tumour inflammation that facilitates growth and protection of the tumour. CAN04 is also designed to stimulate the body's immune system to eliminate cancer cells directly.
Project CANxx
Cantargia has started development of a new antibody against IL1RAP which will also be subject for patent protection. The new antibody is being designed for treatment of autoimmune and inflammatory diseases, with the aim to have a product candidate selected during 2019.
Background
Cantargia AB was founded in 2009/2010 based on a discovery made by Professor Thoas Fioretos and Dr Marcus Järås at Lund University. Their research showed that leukaemic stem cells express a protein, IL1RAP, on the cell surface which is not expressed to the same extent on normal stem cells. Cantargia's research has since then shown that IL1RAP is also expressed in a range of solid tumour cancers.
IL1RAP is important for the cancer cells' ability to create a favourable environment for proliferation and expansion and antibodies targeting IL1RAP could potentially be used to treat several different forms of cancer, but also autoimmune and inflammatory diseases.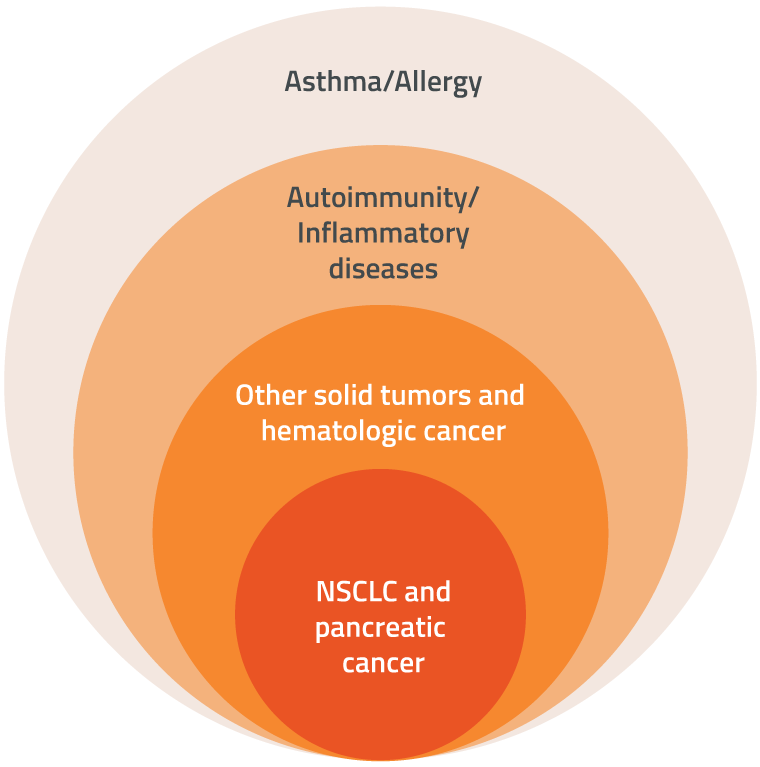 Cantargia's platform is focused around development of antibodies against IL1RAP to treat serious, life-threatening diseases. 
The first product candidate, CAN04, has been designed to treat different forms of cancer, with the initial focus on treatment of non-small cell lung cancer and pancreatic cancer. The platform will be further explored by generation of new antibodies designed for treatment of autoimmune/inflammatory diseases.
Contact us