Nadunolimab
Nadunolimab (CAN04) – Anti-IL1RAP antibody for treatment of cancer
Mechanism of action
CAN04 binds strongly to its target molecule IL1RAP, expressed on tumor cells from several types of cancer. CAN04 works by stimulating the Natural Killer (NK) cells of the immune system to destroy the tumor cells by a process called Antibody-Dependent Cellular Cytotoxicity (ADCC). CAN04 also blocks the signaling of the two forms of interelukin-1, alpha and beta, which promote tumor development as well as resistance to chemotherapy.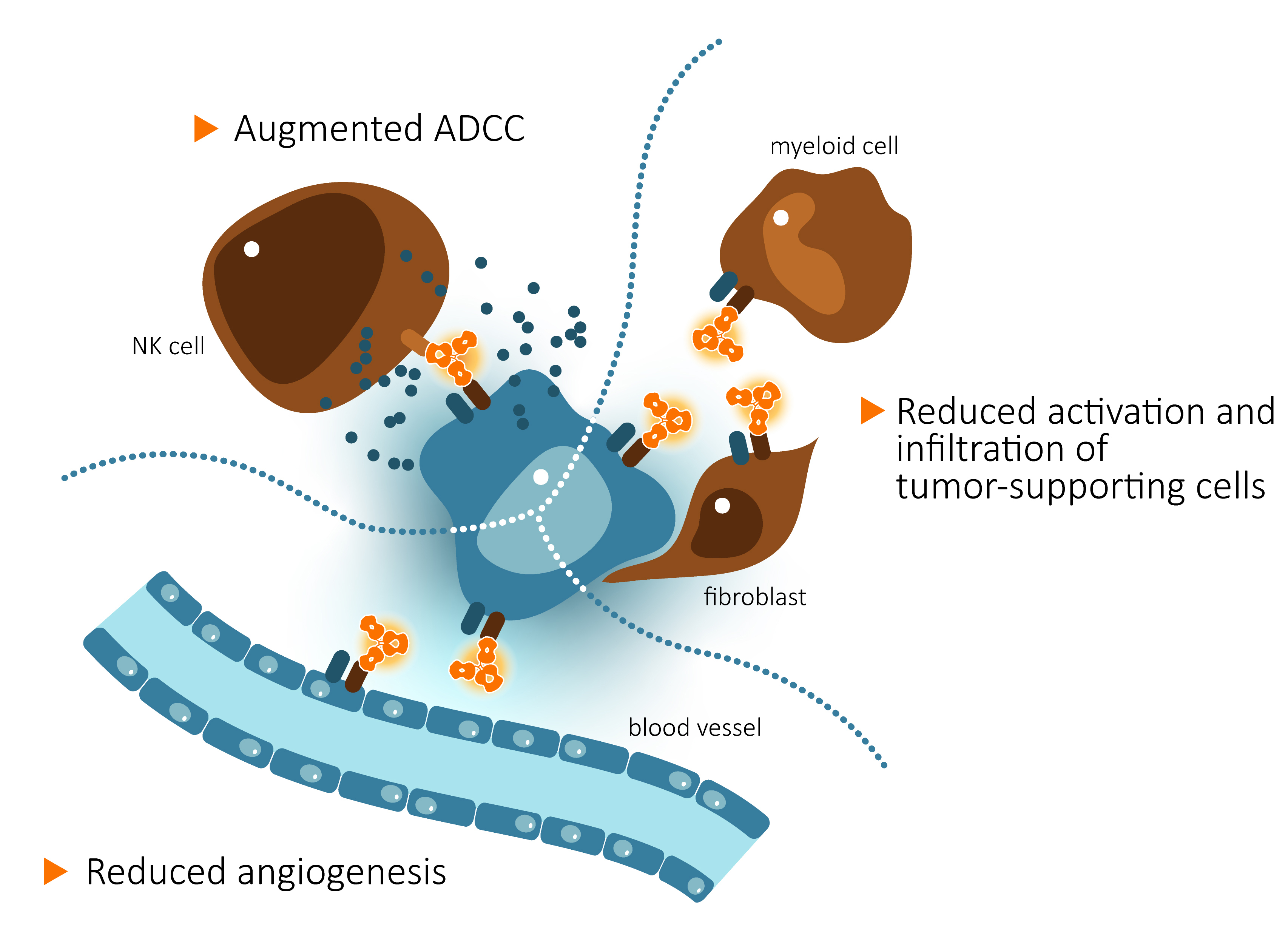 CAN04 counteracts tumor growth by several mechanisms; CAN04 induces tumor cell killing by NK cells via ADCC and reduces infiltration of tumor-supporting cells and blood vessel formation by blockade of IL-1 alpha and IL-1 beta signaling via IL1RAP.

Preclinical development
The mechanism of action of CAN04 is being studied in cell-based model systems and various cancer models to determine its effects on tumor development and the immune system. As CAN04 is also capable of preventing immunosuppressive mechanisms and resistance against anti-tumor therapies, studies in combination with other drugs, such as chemotherapies, are also performed.
Clinical Development
CANFOUR, a phase I/IIa trial, is the first clinical study for CAN04. The focus in the phase IIa part of CANFOUR is combination with standard of care chemotherapy; CAN04 is combined with gemcitabine and nab-paclitaxel in pancreatic cancer (PDAC) and different platinum doublets in non-small cell lung cancer (NSCLC). Results from the phase I stage of CANFOUR demonstrated that CAN04 has a high level of safety, and interim data from stage IIa suggest synergistic effects between CAN04 and chemotherapy.

TRIFOUR is a phase Ib/II trial that evaluates CAN04 in combination with carboplatin and gemcitabine in triple-negative breast cancer (TNBC). TRIFOUR is conducted in Spain in collaboration with the Spanish Breast Cancer Group, GEICAM.
Two additional clinical trials, CAPAFOUR and CESTAFOUR, focus on CAN04 in combination with chemotherapy. The phase Ib trial CAPAFOUR evaluates CAN04 with FOLFIRINOX for treatment of metastatic PDAC and the phase I/II trial CESTAFOUR with standard therapies in NSCLC, biliary tract cancer and colon cancer. Additionally, the phase Ib trial CIRIFOUR evaluates CAN04 in combination with the checkpoint inhibitor pembrolizumab (Keytruda®). Initial data show a good safety profile for the combination.
For more information on the clinical studies for CAN04, see the section on our clinical trials here.
Overview of clinical studies for CAN04.

Manufacture and quality control
CAN04 is manufactured in biological production systems. A cell line has been licensed from BioWa Inc. that enables the production of antibodies with enhanced ADCC activity, which means that the antibodies have a greater ability to stimulate the killer cells of the immune system. More information about this technology is available here.
The process for the industrial production was developed by Glycotope Biotechnology GmbH (now Celonic AG) and further development and manufacturing is performed by Patheon Biologics BV, part of Thermo Fisher Scientific.
CAN04 is produced by means of cell culturing followed by purification in several stages and finally filling into vials that are distributed to hospitals for use in the clinical development work. CAN04 is given to patients by intravenous infusion.

General overview of the CAN04 manufacturing process.